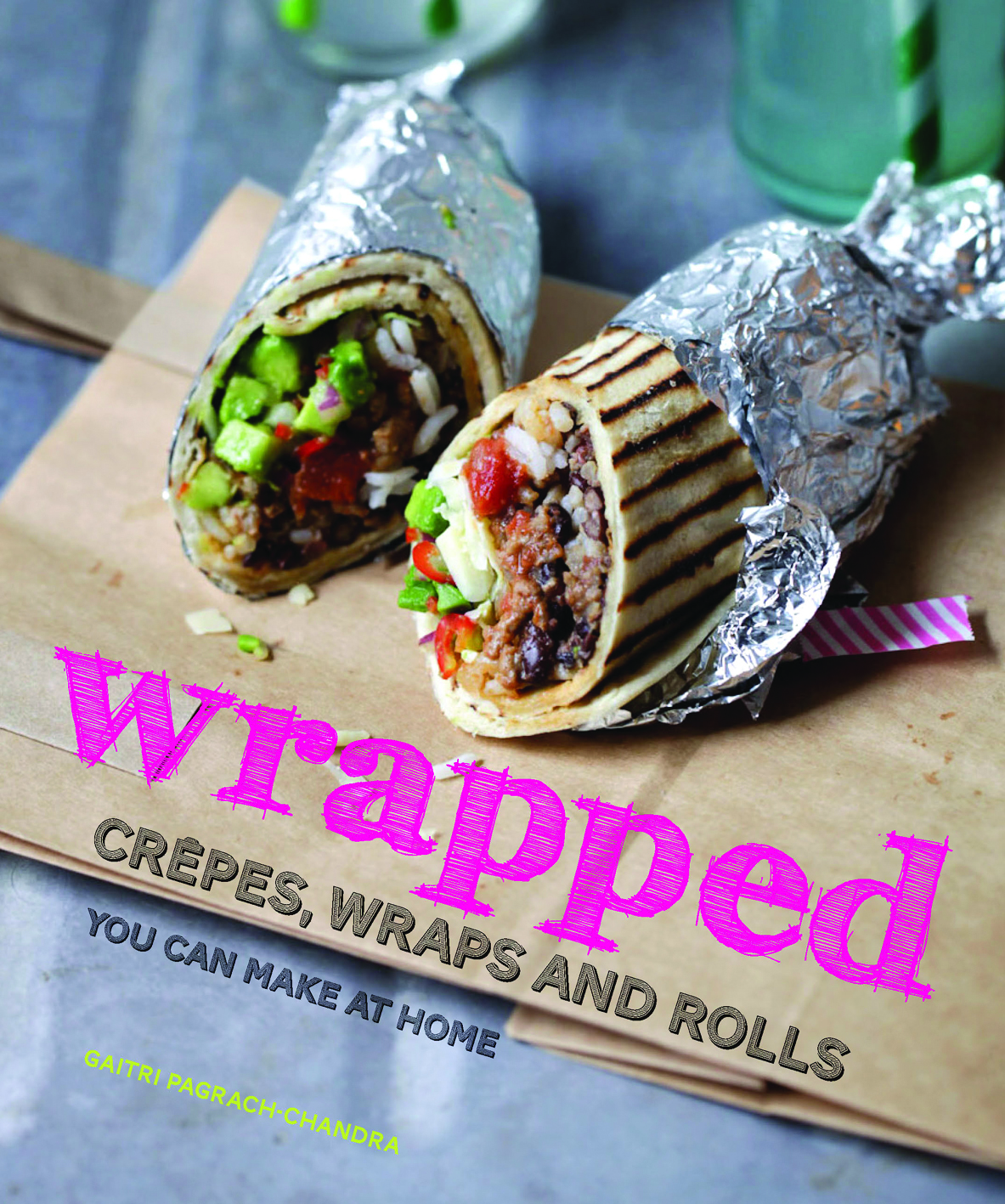 This title – Wrapped – may come as a bit of a surprise to many readers. After an even more than usually intensive period spent with sweets, I craved savouries and threw myself wholeheartedly into wraps, crêpes, rolls and other delicious titbits. The book has just been released in the UK (Pavilion). The American edition (Interlink) will be published in July.
I have been asked what the difference is between the two editions. The recipe content, text and photography are identical. The cover of the UK edition bears the subtitle 'Crêpes, wraps and rolls you can make at home', while the US one says 'Crêpes, wraps and rolls from around the world'. The two editions use the spelling that is common to their regions. The only significant difference is in the MEASUREMENTS. This time, both publishers have chosen to use only the measurements specific to their area. The UK edition has metric weights and measures, with small units in teaspoons and tablespoons. The US edition contains volume measurements, with weights in pounds and ounces; small units are given here too in teaspoons and tablespoons.
The correct content description seems not to have filtered down as yet to all online vendors, so here is the version from the cover of the book:
"Wrap! Roll! Eat! A delicious collection of world food recipes from the award-winning author of Warm Bread and Honey Cake.
Whether as a snack on-the-go or as part of a family feast, filled pancakes or wraps are found on every Main Street and served up in homes the world over. Each country has a favourite way of serving these batter- and dough-based morsels and they are fun and easy to prepare. This eye-catching collection of international recipes covers crêpes, galettes, tacos, burritos, spring rolls, dosa, kebabs, dumplings, griddle cakes, pancakes, and pastries… all wrapped, rolled, or parcelled. It s a truly exciting mix. Wrapped has a touch of the homey and the exotic in one volume, with simple dishes that are perfect for students, family cooks, and street food enthusiasts alike."(From the back cover of Wrapped.)
CHAPTER BREAKDOWN
'Before you start' is an introduction to the book.
Chapter 1 Bases & Batters
Tired of generic shop-bought, preservative-stuffed tortillas? This chapter gives you all kinds of  'wrappers', such as flour tortillas with variations, a few kinds of Indian roti, pitta or pocket bread, butter flaps/coco bread, fried bread, basic dough and pastry for frying, and more.
Chapter 2 Wraps & Rolls
Fresh self-assembled spring rolls, Filipino style, anyone? Or perhaps crystal rolls with rice paper wrappers? Or what about Beef Bulgogi from Korea? Hard to please? Let's stay Asian for a while yet: Teriyaki Salmon, Minced Chicken Satays, Tandoori Chicken Skewers or Paratha Egg Sandwich, then? Let's travel westwards and pick up some chicken shawarma, or if you prefer, a version with lamb. Then we meet Kebabs and Souvlaki. Hopping over to North Africa, Chicken Chermoula skewers, and then across the Atlantic for a Philly Cheese Steak wrap. Would the book be complete without Burritos, Chimichangas, Fajitas, Tacos and Taquitos? Of course not. And we must visit my homeland Guyana, for Chicken Curry and Roti. Stop off in Jamaica on the way for Jerk Chicken, if you like.
Chapter 3 Pastries & Stuffed Snacks
Jamaican Beef patties, Indonesian Pasties, Crisp and Spicy Martabak Packets, traditional Spring Rolls, Vegetable Samosas, Steamed Buns, Potsticker dumplings, Caribbean favourite Bake & Saltfish and more to tempt you.
Chapter 4 Savoury Cakes & Fritters
Here again we scour the world for the most delicious titbits: Asian and Caribbean Fish cakes, Prawn Fritters, Falafel, various types of vegetable fritters and cakes and one I made up: Salmon Patties with a dressing of mushy peas. Try it!
Chapter 5 Pancakes & Griddle Cakes
Sizzling Vietnamese pancakes with delicious fillings, no-need-to-ferment dosas, French chickpea crêpes and galettes, Latin American Arepas with Reina Pepiada stuffing, and more treats for you.
Chapter 6 Relishes & Accompaniments
Now here's a chapter I really enjoyed putting together and trying out in various combinations. There are fresh and cooked tomato salsas, Mango Salsa, Guacamole of course, Hot, Sweet & Sour Indonesian Fruit Salad, Peruvian Onion Relish, Chutneys made from mangoes, cucumbers or coconut, a Kimchi-style pickle, Peanut Sauce, Garlic Sauce, Tamarind Sauce, Yoghurt Sauce and of course a few dipping sauces, among others. Use them as you like to add more bursts of flavour to your wraps and snacks.
Chapter 7 Sweet Suggestions
I know you would be very put out if I didn't offer you some sweets, so here they are: Walnut Cream Crêpes, Chocolate-filled Roulade, Apple Turnovers, Crêpes Suzette, Sponge Pancakes with ricotta and pistachios, a filo delicacy too, of course, Walnut and Cinnamon Griddle Cakes from Korea and Banana Spring Rolls from the Philippines, among others.
Ingredients
Equipment
Acknowledgements